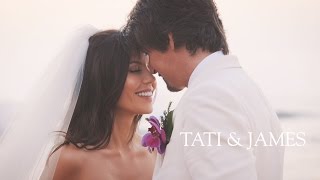 OUR WEDDING | Tati and James Wedding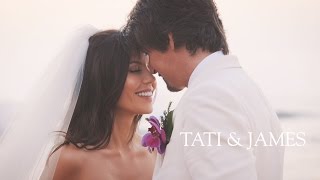 This was the MOST MAGICAL DAY of our Lives … Thank you to our Awesome Friends and Family who made the trip to celebrate with us. xo's ~ Tati & James
W E D D I N G P H O T O S » » » http://instagram.com/glamlifeguru
✔ YOUTUBE FRIENDS
James Charles
https://www.youtube.com/JCharlesBeauty
Kayley Melissa
https://www.youtube.com/user/LetsMakeitUp1
Nikki Phillippi
https://www.youtube.com/user/NikkiPhillippi
✔ PASTOR: Ron Winckler
[email protected]
✔ MUSIC
"I Get to Love You"
Performed By: Ruelle
Produced by: Matt Bronleewe
Download on iTunes: http://bit.ly/IGTLY16
Listen on Spotify: http://bit.ly/IGTLYSP
"Future Looks Good"
Performed By: OneRepublic
Produced by: Ryan Tedder & Brent Kutzle
Download on iTunes: http://apple.co/2iUNShn
Listen on Spotify: http://smarturl.it/BestOf1R
» » » ABSOLUTELY NOTHING IN OUR WEDDING WAS SPONSORED … We are just very grateful for the amazing service that was performed. Gigantic thank you to everyone involved!!!
✔ Videography & Editing: Ohana Films
✔ Fire Knife Performer: Kawika Dang and Makana Argel (drummer)
✔ Flowers: Country Bouquets
Florist: Shelley Rezents
http://www.countrybouquetsmaui.com/gallery
✔ Photographer: Kaua Woessner
https://www.instagram.com/kaua_wedding_photography
http://kauaweddingphotography.com/
✔ Location: Four Seasons Resort Wailea
Event Planner: Paola Fernandez
http://www.fourseasons.com/maui/
✔ DJ: DJ Dan
http://www.djdanmaui.com/
✔ Photo Booth: Bamboo Shootz Photobooth
✔ Dress: Inbal Dror
Panache Beverly Hills
✔ F O L L O W M E O N S N A P C H A T
TatiWestbrook
✔ I N S T A G R A M
http://instagram.com/glamlifeguru
✔ T W I T T E R
http://twitter.com/#!/glamlifeguru
✔ F A C E B O O K
http://facebook.com/GlamLifeGuru
✔ E M A I L
[email protected]
✔ WRITE TO ME HERE
Tati Westbrook
1905 Wilcox Ave
Suite #111
Los Angeles, CA 90068
This is the Tati and James Get Married Video.
https://betzystyle.com/wp-content/uploads/2018/04/IuP3x1.jpg
180
320
Betzy Vela
https://betzystyle.com/wp-content/uploads/2016/09/Maquillaje-peinado-novias.jpg
Betzy Vela
2018-04-02 18:44:10
2018-04-02 18:44:10
OUR WEDDING | Tati and James Wedding