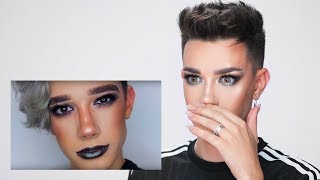 REACTING TO & RECREATING MY FIRST MAKEUP LOOK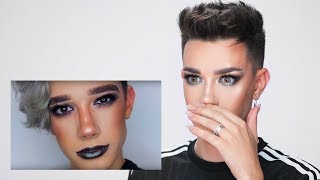 HI SISTERS!! For today's new video, we take a trip down memory lane… to my FIRST EVER YOUTUBE VIDEO. It's been a long 3 years and a crazy journey but I thought it would be so much fun to see how much my personality, video quality, and makeup skills have improved. I recreated the original look using my favorite products now. Enjoy!!
🎥 PREVIOUS VIDEO » https://www.youtube.com/watch?v=pRwr5W69Ju8
👕 SISTER'S APPAREL » http://sisters-apparel.com
🛎 Subscribe to my channel to join the sisterhood & hit the notification bell so you never miss an upload! » http://bit.ly/JamesCharles for new videos!
__
❤️ LET'S BE BFFS
INSTAGRAM » http://instagram.com/jamescharles
TWITTER » http://twitter.com/jamescharles
SNAPCHAT » jamescharless
__
💸 COUPON CODES 💸
MORPHE BRUSHES » http://morphebrushes.com
Use code "JAMES" for 10% off all products online AND in store!
UBER » Use code "SISTERJAMES" for $5 off your first 3 rides!
LILLY LASHES » https://lillylashes.com/
Use code "JAMES" for 15% off all lashes
LAURAS BOUTIQUE » http://lauras-boutique.com
Use code "JAMES" for 10% off all items
SKINDINAVIA » http://skindinavia.com
Use code "JAMES" for 25% off all products
__
♡ MY AMAZING TEAM
EDITOR: Louis & Anthony Gargiula
http://instagram.com/louisgargiula
http://instagram.com/anthonygargiula
WRITER: Eros Gomez
http://instagram.com/erosmua
GRAPHICS: Michael Rusakov
http://instagram.com/michael.ny
http://betzystyle.com/wp-content/uploads/2018/09/SSH0CP.jpg
180
320
Betzy Vela
http://betzystyle.com/wp-content/uploads/2016/09/Maquillaje-peinado-novias.jpg
Betzy Vela
2018-09-28 05:17:08
2018-09-28 05:17:08
REACTING TO & RECREATING MY FIRST MAKEUP LOOK