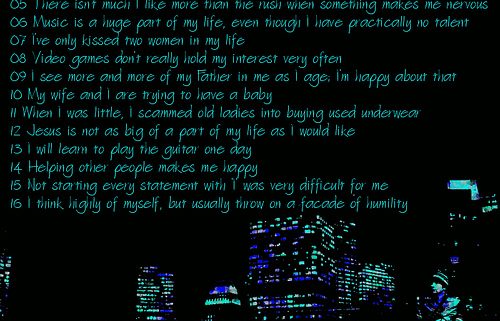 Mixed CD / 16 Tracks
i had just finished making a mixed cd for my brother (with accompanying album art) and thought i should finally get around to writing 16 things about me. i wanted to do 16 things i hate about myself or something…but i thought the track listing idea would be a pretty fun.
16 Things about me
—
01 I don't really care for sweets
02 Despite my protest, I've finally aquired a taste for beer
03 I wouldn't know how to function without my wife
04 Some of my friends have only one good quality: persistence
05 There isn't much I like more than the rush when something makes me nervous
06 Music is a huge part of my life, even though I have practically no talent
07 I've only kissed two women in my life
08 Video games don't really hold my interest very often
09 I see more and more of my Father in me as I age; I'm happy about that
10 My wife and I are trying to have a baby
11 When I was little, I scammed old ladies into buying used underwear
12 Jesus is not as big of a part of my life as I would like
13 I will learn to play the guitar one day
14 Helping other people makes me happy
15 Not starting every statement with 'I' was very difficult for me
16 I think highly of myself, but usually throw on a facade of humility
here's a link to the CD i made…you know the drill…support artist if you like them. i'm sure this isn't legal.
Download CD (zip)
Track Listing
—
01 The Annuals – Carry Around
02 mewithoutyou – In a Sweater Poorly Knit
03 Kanye West – Good Night (feat. Mos Def)
04 He is Legend – The Seduction
05 The W's – Tip from Me
06 My Brightest Diamond – Something of an End
07 Damien Jurado – Sucker
08 Liz Janes – Proposition
09 MC Frontalot – Nerdcore Hiphop
10 Panjabi MC – Ghalia Gurian
11 Anathallo – Italo
12 Firecracker Jazz Band – Firecrackers Rule
13 Sage Francis – Slow Down Ghandi
14 Spoon – The Way We Get By
15 Showbread – Mouth Like a Magazine
16 Minus the Bear – Thanks for the Killer Game of Crisco Twister
17 The Dismemberment Plan – Face of the Earth
18 Tourniquet – Ark of Suffering
19 Liz Janes – Wonderkiller
20 As Cities Burn – The Widow

By nick see on 2009-01-28 00:11:58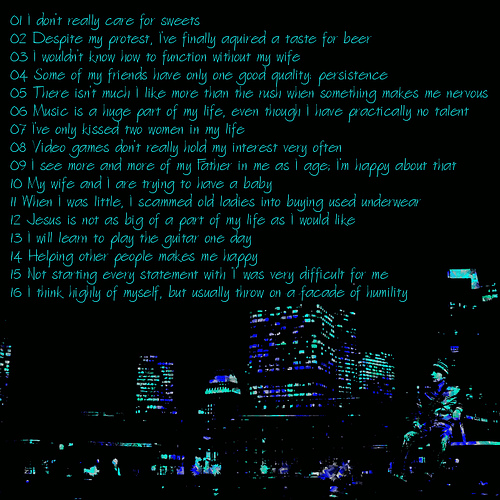 http://betzystyle.com/wp-content/uploads/2018/10/Qje3Ul.jpg
500
500
Betzy Vela
http://betzystyle.com/wp-content/uploads/2016/09/Maquillaje-peinado-novias.jpg
Betzy Vela
2018-10-27 06:36:02
2018-10-27 06:36:02
Mixed CD / 16 Tracks