CAF Camarillo
The Day I was here they were just putting the finishing touches on this WWII B-25 Bomber. The restoration was finished and it was supposed to fly that day. Unfortunately I did not get to see it fly, but it should have flown by now =)
UPDATE
It has flown, see plane history below.
The North American B-25 Mitchell was an American twin-engined medium bomber manufactured by North American Aviation. It was used by many Allied air forces, in every theater of World War II, as well as many other air forces after the war ended, and saw service across four decades.
The B-25 was named in honor of General Billy Mitchell, a pioneer of U.S. military aviation. The B-25 is the only American military aircraft named after a specific person. By the end of its production, nearly 10,000 B-25s in numerous models had been built. These included a few limited variations, such as the US Navy's and US Marine Corps' PBJ-1 patrol bomber and the Army Air Forces' F-10 photo reconnaissance aircraft.
History of Executive Sweet
Manufactured by North American Aviation, Kansas City, KS
Delivered to USAAF as 44-30801
– BOC: Feb. 26, 1945.
– SOC: March 1959
– Assigned to 2144th AAF Base Unit (Advanced Two-Engine Pilot School, ATC),
Moody AAF GA, March 1945
– Transferred to 2109th AAF Base Unit (Advanced Two-Engine Pilot School, ATC),
Turner AAF GA, April 1945
– Transferred to 2100th AAF Base Unit (Headquarters, Eastern Air Training Command),
Maxwell AAF AL (deployment to Kirtland AFB NM), May 1945
– Transferred to 42nd AAF Base Unit (Air University Command), Maxwell AAF (deployment
to Greenville AAF SC), Feb. 1946
– Transferred to 27th AF Base Unit (AUC), Randolph AB TX (to VB-25J), Feb. 1947
–Transferred to 3800th Air Base Wing (AUC), Maxwell AFB, AL, April 1947
– Transferred to AF School of Aviation Medicine (AUC), Randolph AFB, TX, Nov. 1948
– Transferred to VB-25N (deployment to Carswell AFB TX), Dec. 1954
– Transferred to Arizona Aircraft Storage Branch (Air Materiel Command), Davis-Monthan AFB AZ, June 1958-1959
Fogle Aircraft, Tucson, AZ, Sept. 9, 1959.
– Registered as N3699G.
Christler & Avery Aviation, Greybull, WY, Jan. 1960.
Avery Aviation, Greybull, WY, Aug. 1961-1968.
– Flew as sprayer.
Filmways Inc, Hollywood, CA, 1968-1972
– Flew in movie "Catch 22" as Vestal Virgin, 1968-1969.
Tallmantz Aviation, Orange County, CA, Aug. 1971-1972.
Ed Schnepf/Challenge Publications, Van Nuys, CA Feb. 1972-1982.
– Registered as N30801.
American Aeronautical Foundation, Camarillo, CA, July 1982-2008.
– Flown as 430801/Executive Sweet.
Millions of aviation fans have seen this popular 64 year old Warbird perform. Built in Kansas City in 1944 -45 as a B-25J, Executive Sweet saw extensive Stateside service throughout the war as a crew trainer. In 1948,it was turned converted into a USAF VB-25J, a VIP transport until the end of her service. In December of 1954 it was upgraded and designated a VB-25N by Hayes Aircraft, Inc. After several more years in military service at the School of Aviation Medicine at Randolph Field, Texas, the Mitchell was sold as surplus ad became a crop sprayer. Acquired by Hollywood's Filmways Studios in 1968, the B-25 became the lead "on camera" aircraft named Vestal Virgin in the film Catch-22. Placed for sale after completion of filming in 1970, it was purchased by Ed Schnepf (Thank you Ed!!) in 1972 to begin a two-year restorative program back to a wartime J model appearance.
Looking factory – new in its bare metal finish, Executive Sweet once again was armed with thirteen .50 caliber machine guns, a Norden bombsight and operable bomb bay, authentic insignia and interior detailing down to crash axes and crew intercom.
In 1982, Schnepf's Challenge Publications donated the B-25 to the newly formed American Aeronautical Foundation Museum at Camarillo, California, who has been operating it ever since. Executive Sweet has appeared in a dozen major films and numerous TV shows and commercials. In April 1992, the plane participated in the Doolittle Raid 50th Anniversary reenactment staged at North Island NAS.
Executive Sweet set the pace that soon saw hundreds of other warbirds fully restored to their original wartime pristine condition. As it begins its 37th year of appearances, Executive Sweet enters the season with a great new look (see our new nose art), and multiple shows already scheduled. The pilots and air crew volunteers of the AAF Museum look forward to another season of keeping alive the aviation heritage that millions come to share each year.
——————————————————————————–
Specifications:
Powerplant:
Two Wright R-2600-13 Double Cyclone fourteen-cylinder air-cooled radials, rated at 1700 hp each for takeoff and 1500 hp at 2400 rpm. Equipped with Holley 1685HA carburetors or Bendix Stromberg carburetors.
Performance:
Maximum speed 275 mph at 15,000 feet. 230 mph cruising speed. Initial climb rate 1110 feet per minute. An altitude of 15,000 feet could be reached in 19 minutes. Service ceiling 24,000 feet. Range 1275 miles with 3200 pounds of bombs. Ferry range 2700 miles.
Dimensions:
Wingspan 67 feet 6.7 inches, length 53 feet 5.75 inches (bomber version), height 16 feet 4.2 inches, wing area 610 square feet.
Weights:
21,100 pounds empty, 33,000 pounds normal loaded, 35,000 pounds gross, 41,800 pounds maximum overload. The fuel capacity consisted of four tanks in the inner wing panels, with a total capacity of 670 US gallons. In addition, 304 US gallons of fuel could be carried in auxiliary tanks in the outboard wing panels, for a normal total fuel load of 974 US gallons. A 515-gallon tank could be installed in the bomb bay for ferrying purposes, 125 gallons of fuel could be carried in side waist positions, a 215-gallon self-sealing fuel tank could be installed in the top of the bomb bay, and provisions could be made for a droppable 335-gallon metal bomb-bay fuel tank. Fuel System
Armament:
Medium Bomber Version:
One flexible 0.50-inch machine gun in nose, 300 rounds. One fixed 0.50-inch machine gun in nose, 300 rounds. Beginning with B-25J-20, a second fixed 0.50-inch gun was added in the nose.
Strafer Version:
Eight 0.50-inch machine guns in the nose with 400 rpg.
All Versions:
Two 0.50-inch machine guns in individual blisters on the left and right-hand side of the fuselage with 400 rpg. Two 0.50-inch machine guns in top turret, 400 rpg. Two 0.50-inch machine guns in waist position, 200 rpg. Two 0.50-inch machine guns in tail turret, 600 rpg. Normal bomb load was 3000 pounds, but a maximum bomb load of 4000 pounds could be carried on short-range missions. Some had underwing racks for eight 5-inch high velocity aircraft rockets (HVARs).
for more info see
en.wikipedia.org/wiki/B-25_bomber
www.aafgroup.org/b25.html
By tkksummers on 2009-05-25 14:10:34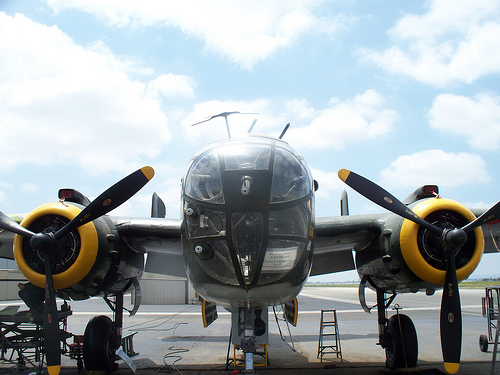 http://betzystyle.com/wp-content/uploads/2018/10/PLcGgj.jpg
375
500
Betzy Vela
http://betzystyle.com/wp-content/uploads/2016/09/Maquillaje-peinado-novias.jpg
Betzy Vela
2018-10-25 06:29:55
2018-10-25 06:29:55
CAF Camarillo